Welcome to the Official Website for the Wading River Fire Department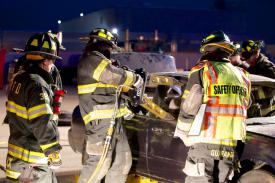 The Wading River Fire Department (WRFD) was established in 1947 and provides emergency
response services for the town of Wading River, which is located in Suffolk County on Eastern
Long Island, New York. Each year, the department's volunteer members respond to more than
1,000 calls for assistance, including structure fires, motor vehicle accidents, medical
emergencies, water rescues, and hazardous materials response. New members are always
welcome.

MVA Overturn Middle Country Rd. Photo By WRFD

Spring Snow Storm

Deputy Chief Branden Heller, March 21

On Wednesday March 21, 2018 the Wading River area was hit with another Nor'Easter. The storm brought heavy wet snowfall and high winds that lasted into the early morning hours of Thursday March 22nd. The Wading River Fire Dept. staffed personal within the firehouse during the storms duration. The below listed incidents were handled by Department Members,

Incidents Listed Below:
2 Motor Vehicle ... (Full Story & Photos)


Day Time House Fires

Deputy Chief Branden Heller, March 06

On Tuesday March 6, 2018 at approximately 1301hrs, the Department responded to 29 Sylvan Dr. Wading River for a reported residential structure fire with an occupant possibly trapped within.
Upon arrival an active fire was present. Department Members quickly entered the structure and performed a primary search which yielded negative results of any person(s) within. The fire was quickly extinguished ... (Full Story & Photos)



Photo By Thomas Lambui LI Hot Shots Photography


Photo By Ex Capt. Robert Quaranta

Greenport's 173rd Washington's Parade

Deputy Chief Branden Heller, February 17

On Saturday February 17th, 2018 Department Members participated in Greenport's Annual Washington's Birthday Parade. Approximately 20 members and 4 pieces of appartus took part in this event. ... (Full Story & Photos)

Mutual Aid Rocky Point

Deputy Chief Branden Heller, February 09

On Thursday February 8, 2018 at approximately 1205hrs the Department responded to 20 Cedar Road, Rocky Point for an active fire in a vacant residence.
Upon arrival, firefighters assisted Rocky Point Fire Dept. with water supply and overhaul of the structure.
Units were back in service at 1301hrs. ... (Full Story & Photos)



Photo By RPFD

Your feedback is important to us! Feel free to sign the guestbook.
Our website is being constantly updated. Please check back with us again soon.